Alloy wheels are a stunning cosmetic upgrade for any car, so when they are damaged, it can really dampen the entire aesthetic of your vehicle. If your alloy wheels have suffered some damage, then our alloy wheel repair guide is here to help. With ways to repair your wheels and a list of common causes of alloy damage, this article will tell you everything you need to know about keeping your alloy wheels in pristine condition.
The ultimate alloy wheel repair guide: What are alloy wheels?
Having gained popularity in the automotive industry in the late 1960s, alloy wheels have since become a staple feature on most modern cars. Made of a mixture of metals, such as aluminium or magnesium, these wheels provide greater strength compared to pure metals and have a striking visual appeal. The most widely used industrial process enforced during the manufacturing of alloy wheels is casting. This is a popular method as not only does it offer high styling versatility, but it is also eco-friendly and has a high degree of dimensional accuracy.
Before alloys received recognition in the car world, car wheels were typically made from steel. Although steel is undeniably strong and durable, it has many drawbacks which make alloys the better option. For example, steel offers little compatibility and is available in limited sizes (most are made with 16″ size rims or less). In comparison, alloys are also more lightweight and dissipate heat better than steel. As a result, better braking performance is guaranteed – making every car journey that little bit safer.
DIY
If your alloys have only suffered from minor damage, you can repair it using a DIY alloy wheel repair kit. The kit consists of all the materials you will need, including:
Pre-measured sachets of alloy wheel filler
Multi-purpose primer aerosol
Hardener
Tack cloth
Sandpaper
Mixing sheets
Mini applicator
The instructions included with the kit will give you a clear guide on what you need to do to repair the damage, but to highlight how simple it is, we have outlined the basic steps below.
While wearing protective gloves, roughen the surface using sandpaper – approximately 25mm around the damaged area
Using a solvent wipe, remove any loose particles or grease
Remove all filler from one of the sachets and place it on a mixing sheet
Using the provided applicator, combine the filler with the correct amount of hardener until the mixture is a uniform colour
Apply the filler in one layer to the appropriate surface and allow to dry for 20-30 minutes
Once fully dried, use sandpaper to remove any excess filler
If you notice there are small dents still present, cover them again with a small amount of filler and re-sand
When dry, all that is left to do is clean the area with the wipe provided and use the tack cloth to remove fine dust
For optimal results, finish the repair by applying two even coats of multi-purpose primer (allowing 10 minutes between each coat to dry)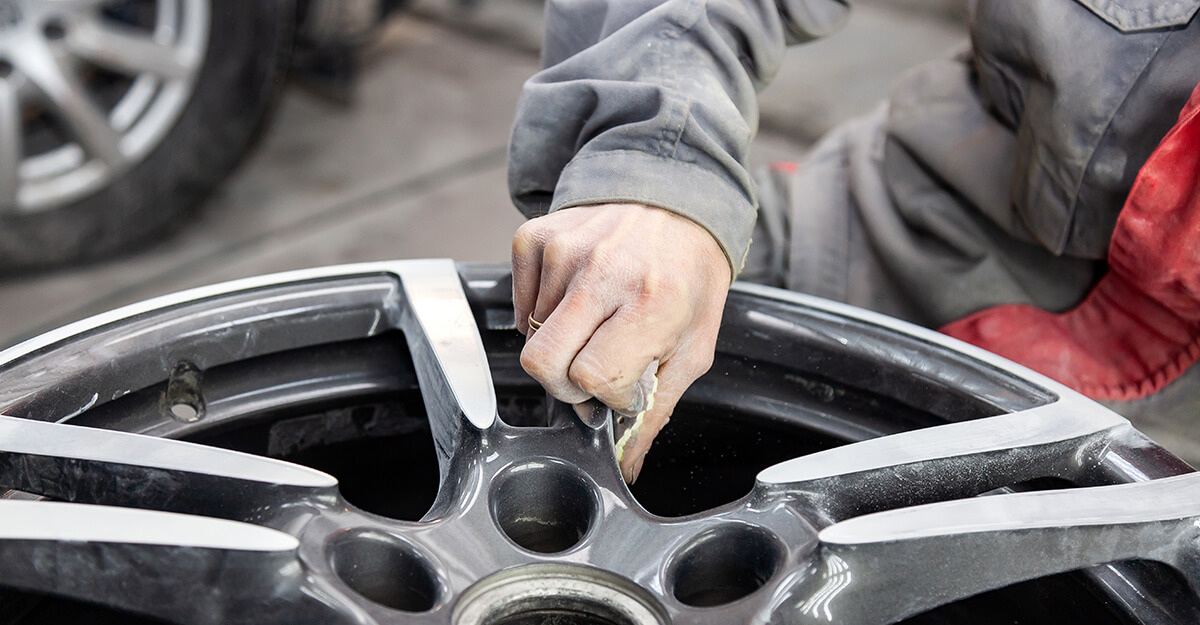 Leave it to the professionals
Even if you are a DIY enthusiast, certain jobs have to be left in the hands of professionals. While small dents and scratches may be able to be rectified using a home repair kit, severe damage will require the help of a trained technician. The process of a professional alloy wheel refurbishment is pretty straightforward. Firstly, the tyres will be taken off the wheels, and, prior to any work being carried out, the wheel will be stripped of its existing finish. Doing this means the damages can be assessed more accurately and ensures the new finish successfully adheres to the wheels. After the stripping process, any remains of the finish are removed and any damages, such as scuffs and gouges, are inspected and noted for repair. Once the entire wheel has been smoothed in preparation for refurbishment, a base coat will be applied. When painting the new and improved alloy, the technician will work their way around the wheel clockwise. The painting process is quite quick as by the time the individual painting gets back to the starting point, the paint ideally still needs to be wet to blend the colour together seamlessly. Once the paint has been applied, a clear coat of lacquer will be put onto the wheel, ensuring longevity.
Causes of damage
Knowing what the common causes of alloy wheel damage are is a great way to be more mindful when driving and maintaining your vehicle. Having provided hundreds of alloy wheel repairs in Aylesbury and the surrounding areas, we have familiarised ourselves with the main culprits of alloy wheel damage, and we are here to share our findings with you.
Curbing
Probably the easiest way to cause damage to your set of alloy wheels is to make contact with the curb. Hitting the curb is not uncommon – many motorists will have hit the curb at least once during their time as a driver. However, this does not make it any less detrimental to your alloys. If you have a habit of driving a little too close to the pavement, you should create a reference point to aid you in establishing an ideal distance from the roadside. Hitting the curb is also a common problem during manoeuvres. Again, to overcome this problem, all you need to do is create reference points inside your car that will keep you positioned correctly during the manoeuvre.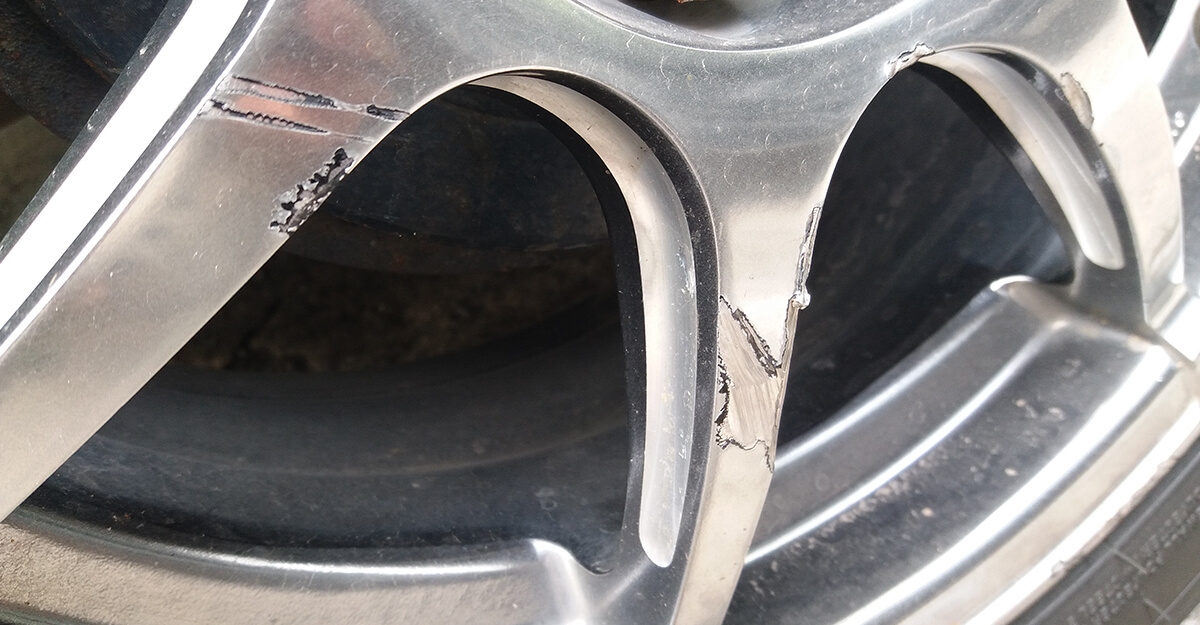 Potholes
The pothole problem in the UK has been grinding the gears of many motorists, as driving over them can result in very costly repairs. The detrimental impact potholes have on your car makes them a major safety hazard which you should try to avoid at all costs. However, we know avoiding potholes in Britain is an almost impossible mission. So, we thought we would give you some advice on what you should do if you encounter a pothole while driving.
Be alert:
Protecting your car and passengers is of utmost importance, so it is imperative that you always keep your eyes peeled. Making an extra effort to double-check the road ahead will allow you to identify potholes will in advance and drive accordingly. It is important you are more attentive of the roads in wet weather as deep potholes can be easily concealed beneath puddles.
Watch your speed:
Hitting a pothole at a slow speed can damage your tyres, wheels and steering alignment. However, hitting one at a higher speed is even worse, and could result in losing control of your car entirely, and crashing. It is important to remember that you must always adhere to the relevant speed limits as if you are going too fast and see a pothole last minute, you may not have enough time to slow down and avoid pothole damage.
Under Inflated Tyres
We all understand the importance of keeping your tyres sufficiently inflated in order to save fuel and reduce emissions, but did you know under-inflated tyres can be detrimental to your alloys? If your tyres are under-inflated, braking distances become longer and the chances of skidding increase significantly. To avoid damaging your alloys in this way, add checking your tyre pressure once a week into your car maintenance routine.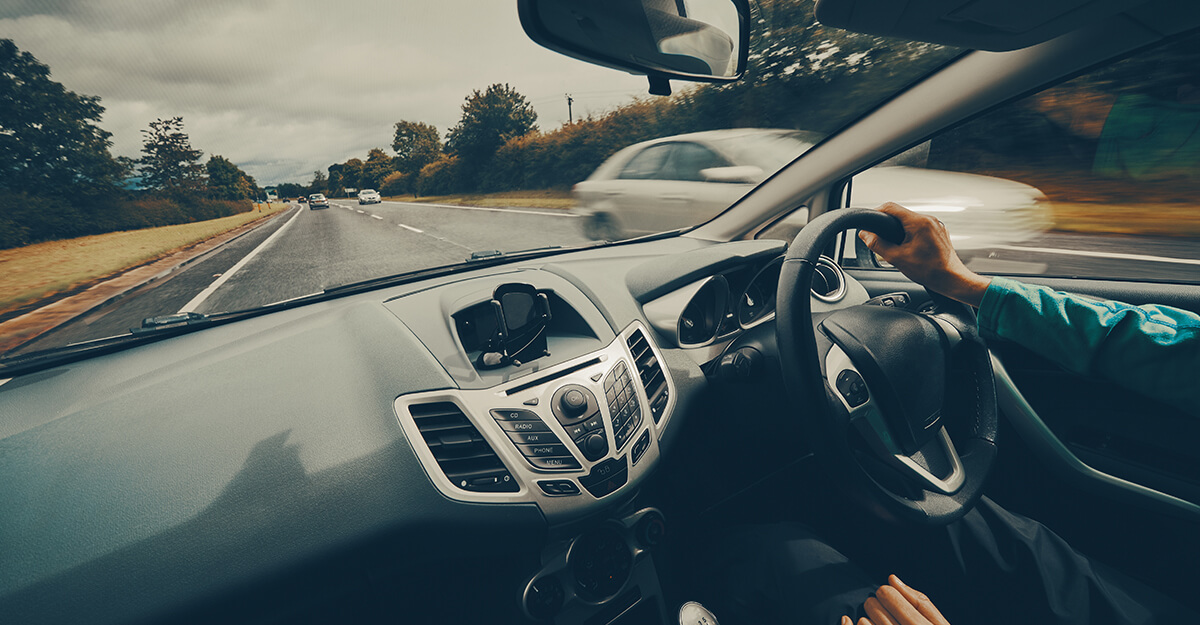 We can fix it
We hope our article has provided you with all the information you need to know about alloy wheels. As well as carrying out successful alloy wheel repairs regularly, we also offer insurance approved car repairs and car body repairs in Leighton Buzzard. All of our services are carried out by a dedicated team of experts who make it a priority to restore your vehicle to the highest standard. So, if your alloys need repairing, or you require any of our other services, please do not hesitate to contact us and we will be more than happy to help.