We have all been guilty of allowing our car to accumulate dirt and clutter. Cleaning your vehicle can be a dull, time-consuming task that many of us put off for as long as we can get away with – even more so when high-quality cleaning products or taking your car to a professional cleaning service can prove to be somewhat expensive.
One of the most effective ways to keep dirt and clutter at a minimum is to avoid mess accumulating in the first place. So with this in mind, we have devised a guide to our top ten easy car hacks guaranteed to keep your vehicle super tidy. And even better, you can test them out without breaking the bank!
10 Easy Car Hacks
You would be surprised at how many household products are excellent at cleaning your vehicle and keeping the interior organised. No longer must you spend a fortune on the latest devices or products to maintain the condition of your car. While, of course, keeping your vehicle clean is vital in retaining aesthetics, it also comes alongside a number of additional benefits. Clearing clutter, in particular, dramatically improves safety as you eliminate the risk of objects rolling under pedals and causing distractions. Furthermore, clutter is known for leading to an increase in stress levels and causes the mind to become incapable of processing thoughts methodically.
1. Oven Cleaner
The buildup of brake dust on alloy wheels can be very frustrating and most definitely dampens the appearance. Although a simple combination of soap and water is often the 'go to' method of achieving bright, polished allows, it does not always prove successful. Oven cleaner, on the other hand, is incredibly useful in breaking up stubborn grime and helps to achieve immediate visible results.
Similarly to when cleaning kitchen appliances using oven cleaner, it is imperative to wear gloves while washing alloys. Not only will this avoid your hands from becoming filled with dirt, but also stop any harsh chemicals used in the substance from irritating your skin. Begin by spraying the alloy wheels with a generous layer of oven cleaner, ensuring that all areas have been covered then leave it to sit for a few minutes. The longer you leave the cleaner to work its magic, the easier it will be for the dirt to lift. Opt for cleaning away the cleaner and dirt using a large soft sponge or nylon brush. A steel brush or abrasive material will risk scratching the surface and causing further damage.
2. Toothpaste
Ultra-violet rays from the sun can cause the headlights to appear cloudy and discoloured. Not only do foggy headlights look unappealing but also weaken the headlight beam, therefore reducing its area of coverage. Weakened headlights prove a particular safety hazard when driving at night as you will be faced with restrictions on how far you can see ahead.
Restoring headlights is super simple and can be completed quickly through the use of toothpaste. Toothpaste is a mild abrasive which means it works exceptionally well as a cheaper, household alternative to polish. You can either apply a small amount of toothpaste to a microfibre cloth and apply to the headlight in circular motions, or dilute the toothpaste with water and use to scrub the surface using a nylon brush. Once cleaned, the toothpaste will continue to form a protective layer over the headlight meaning they will shine bright for up to 4 months before you will need to complete the process again.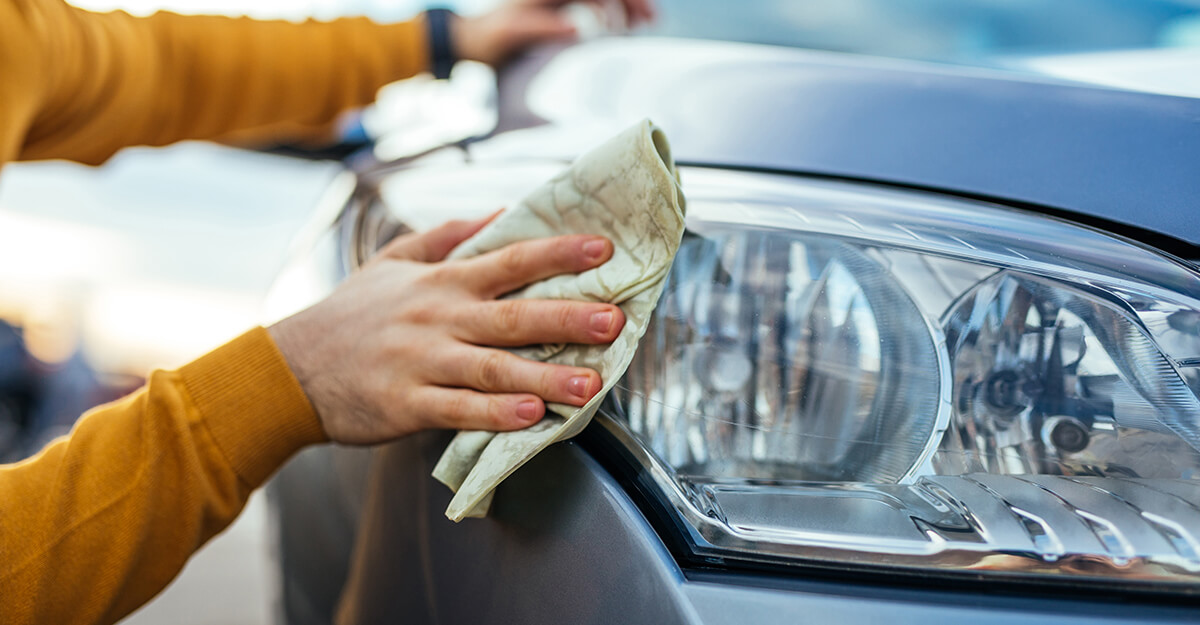 3. Kick Mats
Drivers with young children who use a car seat will understand the frustration of constant mucky footprints on the back of seats. Front-facing car seats give the smaller members of the family the perfect opportunity to sit back, relax and lean their feet on the driver or passenger seat. Opting to equip your vehicle with 'kick mats' is a fantastic way to keep your leather or upholstery clean from dirty footprints, adding a protective layer over seats. Kick mats are fitted with buckle attachments and elastic straps which keeps them secure during journeys. As they are made using a plastic, waterproof material, all mats can be quickly wiped clean. If you're interested in purchasing kick mats, we suggest taking a look at Buggy Baby.
4. Olive Oil
It can become easy to neglect your dashboard as it does feel as if no longer you clean, the dust begins to build again. While expensive cleaning products can remove dirt, many are unable to reduce the layer of debris from reforming a few days later. A proven, cost-effective alternative is the use of olive oil. Using olive oil to clean your dashboard will leave you pleasantly surprised with the results, particularly as minimal materials or effort will be required.
Begin wiping your dashboard down with a dry cloth to remove all large particles of dirt. Once cleaned, put a few drops of olive oil onto a microfibre cleaning cloth and gently wipe down the area. You will see an instant shine, making the dashboard look as good as new. Don't forget to wipe away any excess olive oil left over using a dry cloth – this will stop the smell of oil from lingering. Due to the thin, oily layer that will be left over after cleaning, dust will not stick to the surface.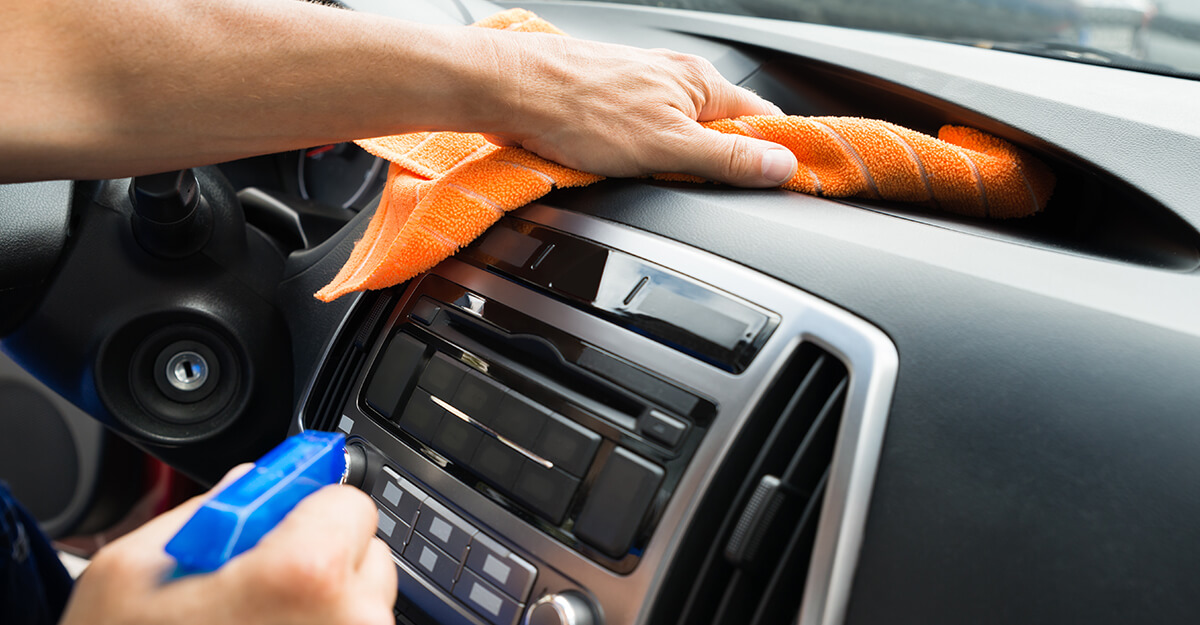 5. Silicone Cupcake Cases
Cup holders are prone to collecting dirt, crumbs and spillages making them considerably trickier to keep clean. An excellent hack for not only keeping cup holders clear but also organised is to line the area using a silicone cupcake case. Silicone cupcake cases are the perfect size to sit securely in cup holders, avoiding sticky spillages and built-up crumbs – they are also a fantastic place to collect loose change! When the cases begin looking a little worse for wear, simply give them a quick rinse under the tap and reuse.
Cater4You stocks a great range of silicone cupcake cases in a variety of shades, ideal for adding a pop of colour to your car!
6. Headrest Hooks
When travelling to work or back from a shopping trip, there is nothing worse than having to brake heavily and noticing the contents of your bag spill over the interior. Not only does this cause an immediate distraction but it also risks food or drink leaking in your car. Avoid the frustration of bag spillages quickly and simply through fitting headrest hooks. Headrest hooks are a low-cost feature which allows you to securely hang bags during your journey. One can be fastened to the front of the passenger seat for your handbag or briefcase and a few more on the back for shopping bags. DHgate.com has a vast range of different car headrest hooks for just a few pounds.
7. Vinegar and Baking Soda
Vinegar and baking soda may seem like an odd combination, but together, the ingredients work as a 2 in 1 car upholstery cleaner and odour remover. The items you will need to create your upholstery cleaner are:
White Vinegar – 1/4 of a cup
Warm Water – 1 cup
Baking Soda – 1/4 of a cup
A Heavy Duty Bottle Spray
Create your solution based on the measurements above and add to the bottle spray. Spray the cleaner onto the car's upholstery and leave the mixture to sit for around 15 minutes before using a dry cloth or towel to absorb any excess moisture. If you have particularly stubborn stains such as coffee, use a toothbrush to scrub the stained area gently and allow to soak for half an hour.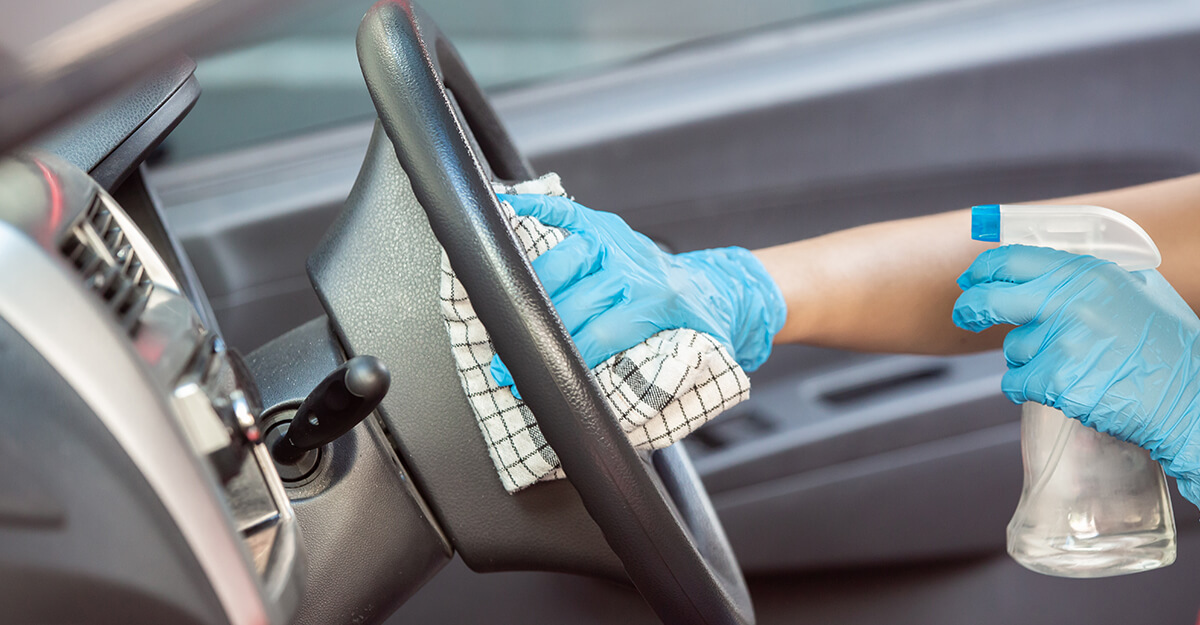 8. Create A Bin
Whether it is a build of receipts or accumulated coffee cups, clutter can quickly begin to build-up in your vehicle. With no place for rubbish, you find yourself stuffing clutter in any available slot from the glovebox to the door compartment. With this in mind, an easy hack for keeping your car tidy is to create a small bin that you empty once a week. You can either purchase a travel car bin or merely keep a reusable carrier bag in your vehicle to fill with rubbish. Many drivers opt for making their own bin using a small dry food container that slots into the door pocket or centre console. In doing this, even if you throw away food or drink packaging, your car will not smell.
9. Wet Wipes
You can never go wrong with keeping a small packet of wet wipes in your car at all times whether this may be in the glove box or boot. Particularly if you have small children or pets who regularly take trips in your vehicle, you can never quite anticipate when there will be a spillage or muddy paws will trample over your seats. Wet wipes are capable of quickly clearing your car from all manners of dirt, keeping your vehicle clean at all times!
10. Storage Walls and Organisers
Storage walls continue to be one of the simplest, yet most effective ways to keep your car super organised and away from clutter. There are a plethora of different storage wall types available from hanging organisers for the back of seats to velcro alternatives for your boot.
As your boot will always be filled with vehicle essentials such as a first aid kit, tyre pressure gauge and flashlight, all drivers would most definitely benefit from a velcro boot bag and organiser. All items can be kept neatly in one place and easy to locate in the case of an emergency, also maximising space. Streetwize stock a fantastic universal boot bag equipped with durable strip grips to avoid movement while driving.
Keep Your Car Clean With 10 Simple Hacks!
Taking time to equip your vehicle with smart storage is a sure way to ensure that you keep clutter to a minimum. While it does require an initial purchase, organising your car is guaranteed to save you both time and money in the future. When it does come to cleaning, forget the expensive shop-brought products and instead make your own using simple ingredients you already have in the home. If, when you are cleaning and decluttering your car, you notice any damage, please feel free to contact Scuff 'n' Scratch. Our fully trained, experienced mechanics specialise in car body works in Milton Keynes, insurance approved car repairs in Buckingham and many more!